At North Cave CE Primary School, we deliver an exciting curriculum which inspires our children and helps them develop a love of learning.
Within EYFS, the children learn through a series of child initiated and adult led activities. Children are encouraged to learn about the world around them and enjoy learning and playing alongside each other on their learning journeys.
In Years 1 to 6, the children follow the National Curriculum. The children are taught the age appropriate programme of study for English and Mathematics and staff plan to ensure that appropriate challenge and support is provided. Within English, the school has adopted a 'Talk for Writing' approach and this allows children to become familiar with a range of text types and language structures before learning to apply these within their own writing.
Staff plan for Mathematics from the National Curriculum. Using resources such as those from White Rose Maths, staff ensure that pupils have a in-depth knowledge of the topics taught and are exposed to a range of problem solving and reasoning questions in order to deepen their understanding.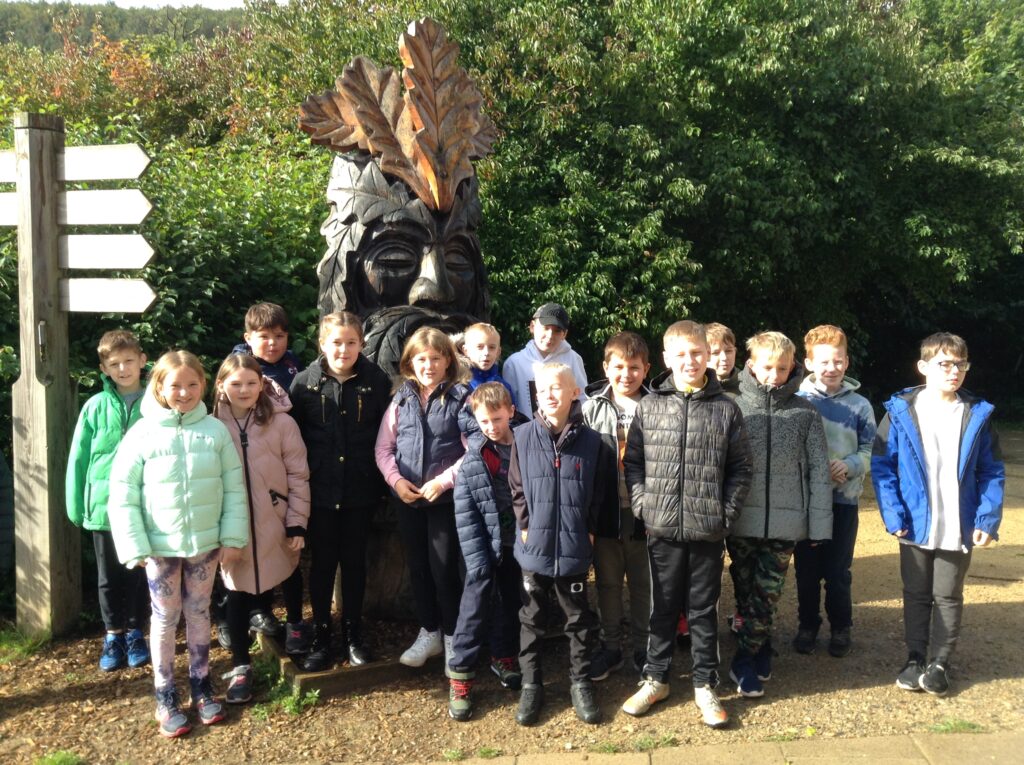 The school has adopted a topic approach and much of the National Curriculum is taught in this way. Where subjects do not link into a topic, these are taught explicitly in order to ensure full curriculum coverage. The topics often have a Geography or History focus and provide the stimulus for much of the children's learning in subjects such as Art and Design, Music and Design and Technology.
We follow the Locally Agreed Syllabus for Religious Education and this allows the children to learn more about different religions in a local, national and global context. The children are encouraged to ask questions which enable them to develop their knowledge, thoughts and ideas. Alongside this, the children also study units from 'Understanding Christianity' which supports children in developing their own thinking about Christianity.
In PE, the children are taught a broad range of physical activities, including competitive sports, team games and dances. Children receive two PE lessons a week. In addition, the children take part in a range of sporting activities alongside other schools in the South Hunsley Partnership.
The children in Key Stage 2 are taught French as a modern foreign language and children are taught to show understanding of the language and speak in sentences, using familiar vocabulary, phrases and language structures.
Central to our curriculum is the opportunity to learn through first hand experiences. As a result, the school looks to incorporate visits and visitors into our curriculum in order to bring this to life. The school is proud of its rich tradition of residential visits with every child in each year group having the opportunity to take part. In the last year, the children in Class 1 and Class 2 visited Paxwold, near Market Weighton. The children in Class 3 visited Snowball, near York, and the children in Class 4 visited Ford Castle, near Berwick-upon-Tweed.
We continually review our curriculum to ensure that it is exciting and provides full curriculum coverage. Within KS1 we follow a two year cycle and in KS2 we follow a four year cycle. Please see below an overview of the topics, Science and RE planned for each class for the next two academic years.
Staff ensure that as classes contain mixed year groups, challenge is provided for all through the teaching of key skills for each subject alongside the knowledge taught.
A more detailed summary of the curriculum for each class is published on the class pages at the start of each term.
Curriculum and testing
For information on testing at KS1
For information on testing at KS2
English, Grammar, Punctuation and Spelling (EGPS)
In line with the requirements of the new National Curriculum, we have increased the emphasis placed upon the teaching of Grammar, Punctuation and Spelling, during our English lessons. Each child in the school receives regular lessons focusing upon these topics. Our EGPS expectation posters show the age related learning expected for each year group. Click on the link below to see the posters:
Website Links
Listed here are some of the links to websites we like to use.
SpellingFrame
This is an interactive online website to help children learn the Year 3/4 and the Year 5/6 spellings
BBC Schools – Ages 4-11
Excellent set of resources to support all learning in the classroom
Top Marks
A selection of on-line activities for all areas of the curriculum.
Primary School Homework help
There is a comprehensive set of links to web-sites with interactive games and teaching tools.
Crick Web
Lots of teaching tools for the interactive whiteboard.
This literacy page is described as for Key Stage 2, but has activities suitable for lower primary ( see sticky letters)
Picture Search
Good website to search for images to use in the classroom.
BBC class clips
The BBC has collated a set of short videos to support the teaching of a wide range of topics
Comic creator
A website to draw cartoons and write speech bubbles.
Science:
Unit 3a – Teeth and Eating
Unit 3b – Helping Plants Grow Well
Unit 3c – Characteristics of Materials
Unit 3d – Rocks and Soils
Unit 3e – Magnets and Springs
Unit 3f – Lights and Shadows
Unit 4a – Moving and Growing
Unit 4b – Habitats
Unit 4c – Keeping Warm
Unit 4d – Solids, Liquids, and how they can be separated
Unit 4e – Friction
Unit 4f – Circuits and Conductors
Unit 5a – Keeping Healthy
Unit 5b – Life Cycles
Unit 5c – Gases Around Us
Unit 5d – Changing State
Unit 5e – Earth, Sun and Moon
Unit 5f – Changing Sound
Unit 6a – Interdependence and Adaptation
Unit 6b – Micro-organisms
Unit 6c – More About Dissolving
Unit 6d – Reversible and irreversible changes
Unit 6e – Forces in action
Unit 6f – How we see things
History:
Unit 1. How are our toys different from those in the past?
Unit 2. What were homes like a long time ago?
Unit 3. What were seaside holidays like in the past?
Unit 4. Why do we remember Florence Nightingale?
Unit 5. How do we know about the Great Fire of London?
Unit 6a. Why have people invaded and settled in Britain in the past? A Roman case study
Unit 6b. Why have people invaded and settled in Britain in the past? An Anglo-Saxon case study
Unit 6c. Why have people invaded and settled in Britain in the past? A Viking case study
Unit 7. Why did Henry VIII marry six times?
Unit 8. What were the differences between the lives of rich and poor people in Tudor times?
Unit 9. What was it like for children in the Second World War?
Unit 10. What can we find out about ancient Egypt from what has survived?
Unit 11. What was it like for children living in Victorian Britain?
Unit 12. How did life change in our locality in Victorian times?
Unit 13. How has life in Britain changed since 1948?
Unit 14. Who were the ancient Greeks?
Unit 15. How do we use ancient Greek ideas today?
Unit 16. How can we find out about the Indus Valley civilisation?
Unit 17. What are we remembering on Remembrance Day?
Unit 18. What was it like to live here in the past?
Unit 19. What were the effects of Tudor exploration?
Unit 20. What can we learn about recent history from studying the life of a famous person?
Geography:
Unit 1: Around or school – the local area
Unit 2: How can we make our local area safer?
Unit 3: An island home
Unit 4: Going to the seaside
Unit 5: Where in the world is Barnaby Bear?
Unit 6: Investigating our local area
Unit 7: Weather around the world
Unit 8: Improving the environment
Unit 9: Village settlers
Unit 10: A village in India
Unit 11: Water
Unit 12: Should the high street be closed to traffic?
Unit 13: A contrasting UK locality: Llandudno
Unit 14: Investigating rivers
Unit 15: The mountain environment
Unit 16: What's in the news?
Unit 17: Global eye
Unit 18: Connecting ourselves to the world
Unit 19: How and where do we spend our time?
Unit 20: Local traffic – an environmental issue
Unit 21: How can we improve the area we can see from our window?
Unit 22: A contrasting locality overseas – Tocuaro
Unit 23: Investigating coasts
French:
Unit 1: Je parle français!
Unit 2: Je me presente
Unit 3: En famille
Unit 4: Les Animaux
Unit 5: Quelle heure est il? (Part 1)
Unit 7: Quelle heure est il? (Part 2)
Unit 8: Qu'est-ce que tu veux?
Unit 9: Les sports
Unit 10: Les vetements