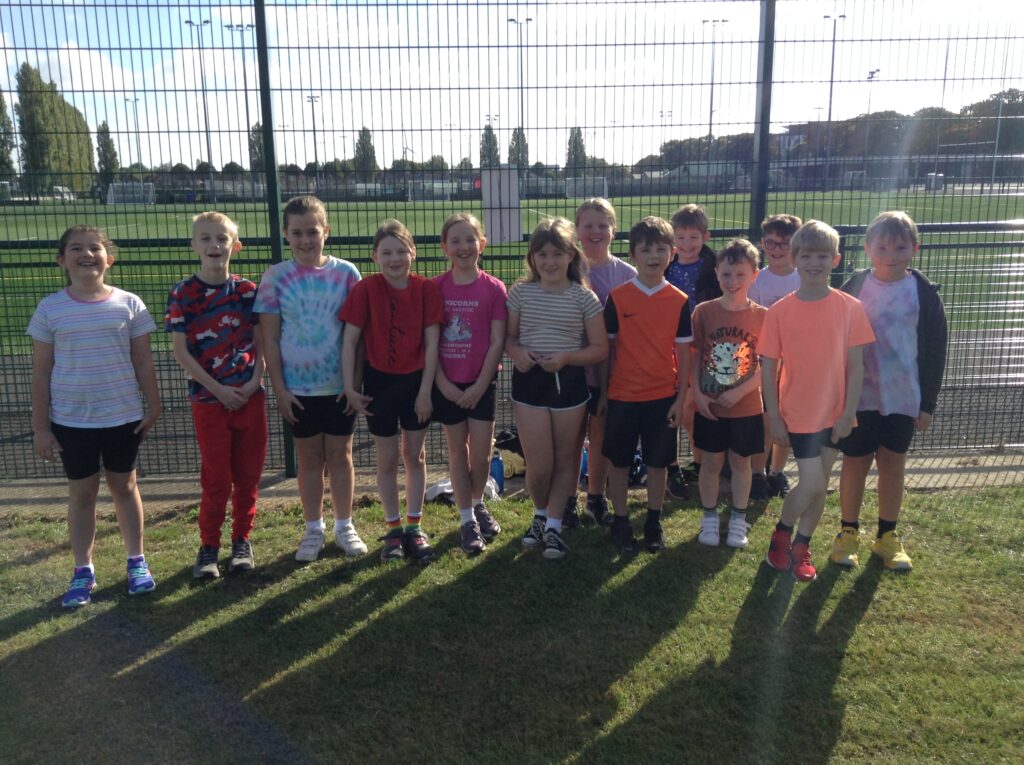 We encourage children at North Cave Primary School to be healthy, active and energetic. We continually look to create opportunities for physical activity in all areas of the school day, from activities first thing on a morning, to our indoor and outdoor PE and games sessions each week. A range of equipment is also provided for children to use at break times and lunchtimes.
In terms of the PE curriculum from Reception through to Key Stage 2, our vision is to engage children in exciting PE sessions that embed an understanding of the health benefits of being physically active. This helps develop in the children a love and enthusiasm for physical activity.
The children are trained to warm up before they get active. They are taught to develop and control their balance, co-ordination and pace, as well as achieve sporting goals in teams by listening closely, playing as a team-member and following instructions. Children work on developing their gymnastics, dance skills, performance and movement to music. We also shape children's leadership skills in sporting performance through communication games and team sports, as well as sports days and charity events, such as the Mini London Marathon and Dove House Hospice Bunny Run.
Summer sports focus on further developing athletics skills, use of sports equipment and understanding of scoring and strategy, for example in cricket and tennis, culminating in our Sports Day.
We also enjoy the benefits of being part of the East Riding Sports Partnership, where children in KS2 have the opportunity to participate in interschool competitions alongside other schools within the local partnership.
Staying Fit, Well and Healthy at North Cave Primary School
The children know we place a high importance on their physical health and wellbeing!
Having the right PE equipment and kit for indoor and outdoor play goes a long way to engaging the pupils in sports, physical activity and games. We use our Sports Premium to top up the kits we have in school, purchasing games boxes with equipment for playground physical play, as well as the more specialised equipment for PE.
We like to encourage the children to make up their own games and try out new things, rather than lead them or restrict them in what they might play. Each class is responsible for their own box of equipment. Play leaders are available at break times and lunchtimes to distribute the equipment and suggest playtime games.
Looking After Ourselves Before, During and After Games
The children learn how best to warm-up and cool down and understand how to look after their bodies when taking part in sports.
As the children get older, they are supported to take more responsibility for their kit and their own items in school. They are encouraged to check and pack their own PE kit and if children wear earrings, then they are encouraged to remove or cover them independently. The children are asked to have their name in all items of their uniform and PE clothing.
As they begin the journey of transition to Key Stage 3 and secondary school, those who might require pre-activity medication for asthma are helped to manage this with increasing independence.
Curriculum cycle and overview
KS1:
| | | | |
| --- | --- | --- | --- |
| | Autumn | Spring | Summer |
| Cycle A | Gymnastics Football Throwing & catching games – Dodgeball/bench ball Health and fitness | Multi-skills Dance Strike & field – tennis/badminton/hockey Circuits | Athletics OAA/orienteering Throwing & catching games – netball/basketball |
| Cycle B | Multi-skills Dance Strike & field – hockey/badminton/tennis Circuits | Gymnastics Football Throwing & catching games – Bench ball/handball Health and fitness | Athletics OAA/orienteering Strike & field – cricket/rounders |
| Possible Cycle C | Gymnastics Football Throwing & catching games – dodgeball/bench ball Health and fitness | Multi-skills Dance Strike & field games – hockey/tennis/badminton Circuits | Athletics OAA/Orienteering Throwing & catching games – basketball/netball |
KS2:
| | | | |
| --- | --- | --- | --- |
| | Autumn | Spring | Summer |
| Cycle A | Rugby Circuits Gymnastics Bench ball | Dance Netball Orienteering Multi-skills | Athletics Rounders Tennis Swimming* (Class 3 children) |
| Cycle B | Hockey Running/stamina Gymnastics Football | Dance Badminton Dodgeball Health & fitness | Athletics Cricket Basket ball Swimming* (Class 3 children) |
*Swimming may take place during another term depending on availability of places
Interschool sport
We recognise the importance of competitive sports and look forward to competing alongside other schools within the South Hunsley partnership of schools. We take part in sports such as:-
Football
Benchball
Dodgeball
Hockey
Cross country
Festival of sport
Rounders