All Scripture is breathed out by God and profitable for teaching, for reproof, for correction, and for training in righteousness, that the man of God may be complete, equipped for every good work.
Timothy 3:16-17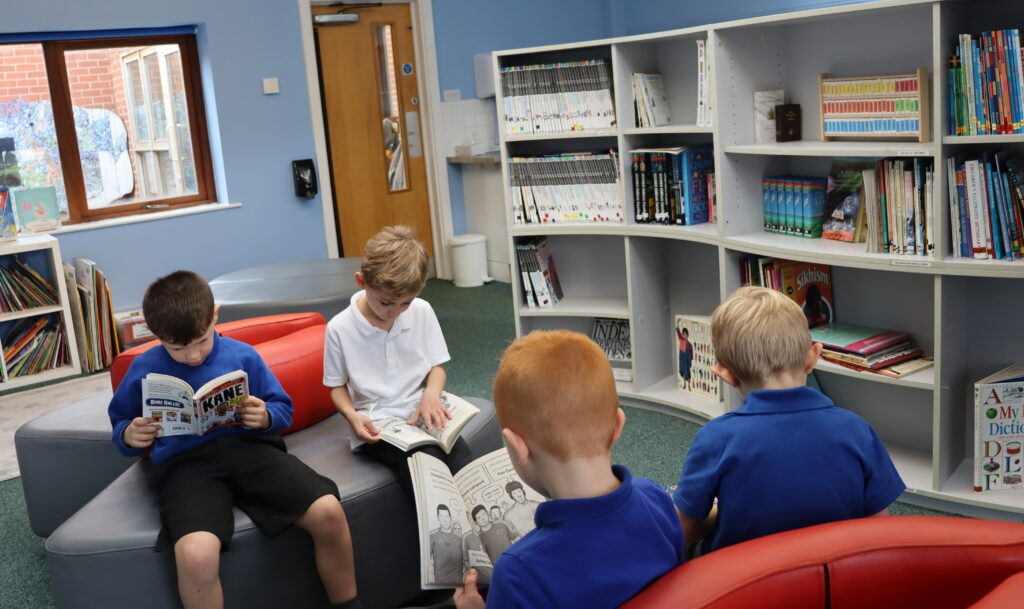 At North Cave C.E. Primary school we strive to support children to foster a love of reading and literacy. We enable the children to develop this essential life skill by ensuring the children are literate and develop reading skills in order to access the information that will support their development in all curriculum areas and in preparation for their later life.
Our teaching and learning of reading is linked to the National Curriculum 2014. As our children develop as readers, our intended impact is:
To read confidently, fluently and with an understanding to successfully comprehend and understand a wide range of texts.
To develop the habit of reading widely and often, for both pleasure and information.
To appreciate our rich and varied literary heritage.
To acquire a wide vocabulary, an understanding of grammar and knowledge of linguistic conventions for reading.
To enable all children to develop to the best of their ability and to use and understand English
To enable children to work towards their full potential in literacy and oracy.
To have a good knowledge of a range of authors.
To encourage a positive attitude of reading and foster a knowledge and love of books.
To equip the children with the skills to become competent, confident users of language in all its forms.
Reading at home
Enjoy looking at a selection of reading for pleasure books. Click on the link to views recommended books for each year group.
Reading for Pleasure Newsletter
Enjoy our Reading for Pleasure newsletter by clicking on the link below.
Enjoy our summer challenge
Books to enjoy for the summer
Newly released books for the summer
Books linked King Charles III's coronation
Newly released books in May
Books on the theme of Easter
Newly released books in April
Poetry books as we celebrate World Poetry Day.
Books linked to STEM ( science, technology, engineering and maths) and women in science.
Newly published books in February.
Newly published books to enjoy and Chinese New Year.
A selection of Christmas books to enjoy reading.
Books linked to Anti-Bullying.
Looking forward to books to be released in spring.
Reading at North Cave CE Primary School
We use a synthetic phonics approach to Phonics. We use the Floppy's Phonics materials to support our teaching. The teaching of Phonics occurs daily during a dedicated Phonics lesson for the children in EYFS and KS1 where we focus on individual sounds, groups of sounds and common exception words within the six different 'phases'. Our reading scheme is closely linked to the progression of these sounds. At each phase the children learn 'tricky words' alongside the sounds that cannot be sounded out. Some children continue learning their phonics in KS2.
We teach:
How sounds are represented by written letters.
How sounds can be blended together to make words.
Your child will be taught to read the 44 phonics sounds, or phonemes, used in the English language.
They learnt the letters or groups of letters by saying the sound (or sounds) they represent and they then learn to blend the sounds to make words.
Helping your child & parental involvement
We encourage our children to read frequently outside of school for pleasure and information. We encourage and foster a positive relationship with reading, which includes the support for parents/carers to regularly read with their child. We encourage open communication between ourselves, and parents/carers and we write comments about children's reading in the 'Home Reading' book.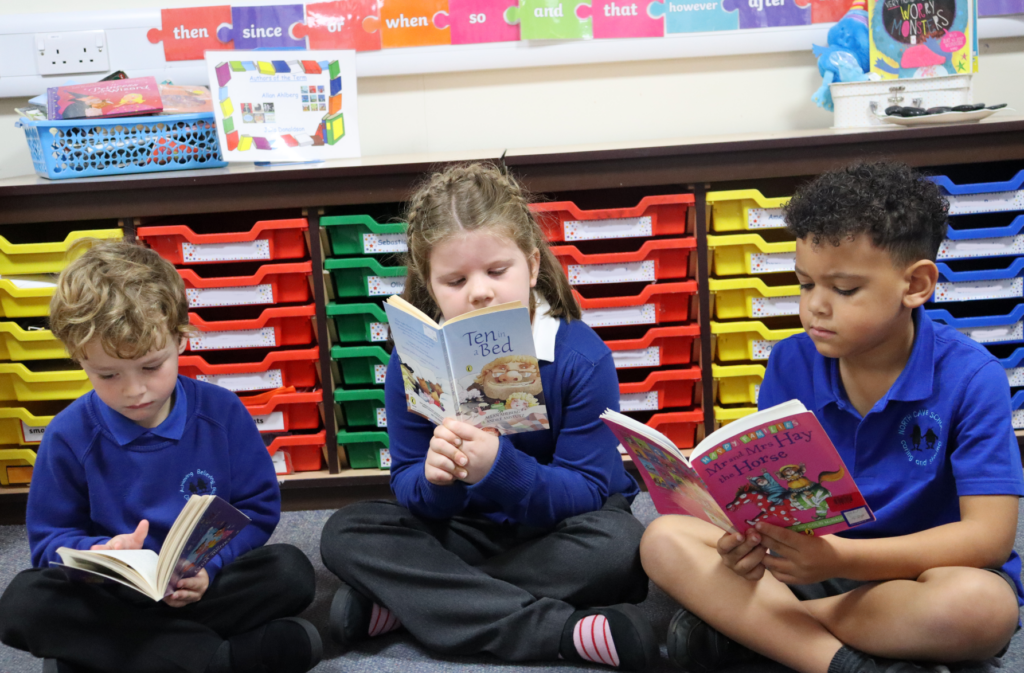 General Information for Parents
'We have an obligation to read aloud to our children. To read them things they enjoy. To read them stories we are already tired of. To do the voices, to make it interesting, and not stop reading to them just because they learn to read to themselves.'
Neil Gaiman
At North Cave C.E. Primary School we follow the National Curriculum for reading. The National Curriculum divides reading up into two closely linked skills: word reading and comprehension.
Word reading is the name given to recognising the words on the page or screen. We teach Phonics to help children with this part of reading.
Comprehension is the name given to make sense of what they're reading. A child needs to be able to understand the words that they are reading.
Click on the links below for supportive information and resources linked to word recognition and comprehension.
Your child may like to choose an e-book to read for pleasure. You may like to talk to your child's teacher or look in your child's reading record to see the level / book band your child is reading at. The table below will also give a general guide to help you choose an e-book for your child to read.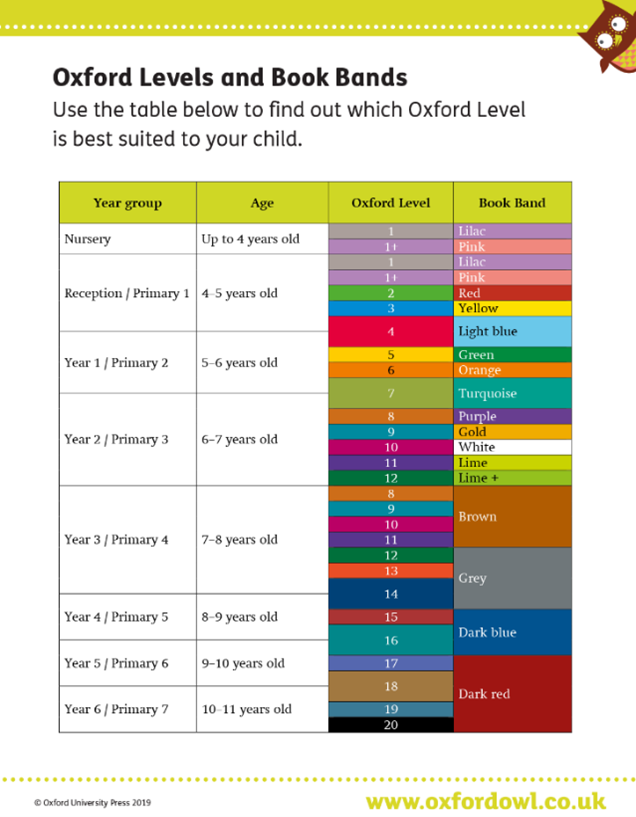 https://owlhomestage.wpengine.com/reading/free-ebooks/
Helpful information about developing your child's reading for pleasure and tips to help your child to read more.
https://owlhomestage.wpengine.com/reading/reading-for-pleasure/
Encouraging boys who are reluctant readers
Find information about helping reluctant boys to read. Supportive ideas include making reading dens, chatting informally about a news story, magazine, book, or even a film. It is suggested to choose books with motivation and attention-grabbing content. Indeed, boys sometimes prefer books that heavily feature humour, science fiction, action, or horror.
https://home.oxfordowl.co.uk/reading/encouraging-boys-to-read/
Information to help with struggling readers.
https://owlhomestage.wpengine.com/reading/common-reading-issues/struggling-readers/
Reading habits for the summer holidays and beyond.
https://owlhomestage.wpengine.com/blog/establishing-a-reading-habit-for-the-summer-holidays-and-beyond/
Reading comprehension is the ability to read a text and understand its meaning. Click to find out further information to help your child with their comprehension.
https://owlhomestage.wpengine.com/reading/reading-comprehension/
Information about Phonics for Parents
Parents' Phonics information meetings
Information about reading and Phonics is shared with parents and carers during our Parents' Phonics Information Meetings. We provide further information about these events on our newsletters.
Meeting include:
EYFS and Early Reading
Y1 Reading and Phonics Screening information
Please click on the links below for further information about Phonics and Phonics Screening information.
Learn to Read with Phonics- a parent guide
A guide to phonics including how to pronounce pure sounds.
https://owlhomestage.wpengine.com/reading/learn-to-read-phonics/
Phonics Screening information
Phonics screening will take place in June 2022. Find information about what Phonics screening is and how to help your child.
https://owlhomestage.wpengine.com/at-school/primary-school-assessment-tests/year-1-phonics-screening-check/
Shared Reading
Children benefit from shared reading at home and at school. Shared reading takes place across the school in a variety of ways. The books, extracts, e-books and computerised text support lessons across the curriculum. Shared reading demonstrates how to read a wide variety of different genres, text types and that reading is a pleasurable experience.
Talk 4 Writing
Reading is an essential part of our Talk 4 Writing sequence where staff model reading and this is part of a sequence of lessons to develop an understanding and ability to retell the text in order to support literacy development. Children can see the direct impact of their reading on the writing.
Guided Reading
Within the guided reading sessions, all reading domains are taught across a range of text using a range of strategies. The objectives are taken from the National Curriculum with an emphasis on the reading domains. Teachers will use ongoing assessment to aid their planning.
During guided reading the children develop their confidence with the reading domains. The reading domains are: decoding and fluency, retrieval, summary, inference, prediction, clarifying and comparing and questioning.
Home Reading Book
At the start of each key stage the children receive a book bag for the transportation of home reading books and a reading record. Each term information linked to reading is shared via our curriculum letter to parents. This states our school expectations for the term, including reading. The reading books that are sent home are part of our structured Core Reading Scheme from Floppy's Phonics (Oxford Reading Tree). Occasionally, children may be issued a book with no words in it. This is a perfect time to engage in a discussion about the features of the book, illustrations, characters, possible plot, settings etc. Once a child has progressed through the Core Reading Scheme he/she will be a 'free reader' and choose their own reading books. Occasionally, an adult in school may guide a child with their choice to ensure the books are appropriate and a range of genre is covered.
Reading across the Curriculum
The children enjoy reading in all areas of the curriculum. They are encouraged to explore their interests in our new library and through our project boxes and class library books.
School Library
We opened our new school library in July 2022. All the classes visit the library each week and they can choose a book for pleasure to take home. We have a wonderful selection of books for our children, including a pre-school section.
The children are invited to attend a class Book Club on a lunchtime.
Library
Each class has a well-resourced class library. Our children can choose books to read from the class library and may borrow books of interest at any time. In EYFS and KS1 there are comics as well as books within the library. The children also have access to the school library which also consists of a variety of text types. The school also has a termly exchange with a library service which provides books for all classes. This service also provides project boxes which contains texts to enhance and support learning across the curriculum.
Assessment
The children in EYFS are assessed against a baseline on entry for reading. Whilst on their Learning Journey the children are observed and assessed against the Development Matters. At the end of the year each child is assessed to see if they are emerging or expected against the EYFS Profile for reading.
We track phonics each month with a Phonics Screening tracking activity for our Year 1 children and for those children in Year 2 who did not meet the standard of the Phonics Screening Check in Year 1.
In KS1 and KS2 our children's reading is assessed every term.
Children in Year 2 will be awarded a teacher assessment grade. The children will take part in the KS1 SATs for Reading.
Children in Year 6 complete past SATs papers to become familiar with layout and style of the SATs. Year 6 pupils are assessed using the Government's standardised Reading Test at the end of KS2.
Reading for All
Children have access to a range of support material to aid and assist them with their reading and comprehension. All children in KS1 have access to Lexia, which is a computed based program to support word reading, grapheme and phoneme relationships and spelling patterns. Children who require additional support or consolidation continue to have access through KS2.
Children working on developing decoding and fluency (regular readers) are listened to at least twice a week. These children also benefit from following a text whilst others read aloud. This occurs during guided reading session, group guided reading session and shared reading.
Reading Strategy
Our Reading Strategy provides further information about Reading at North Cave C.E. Primary School.